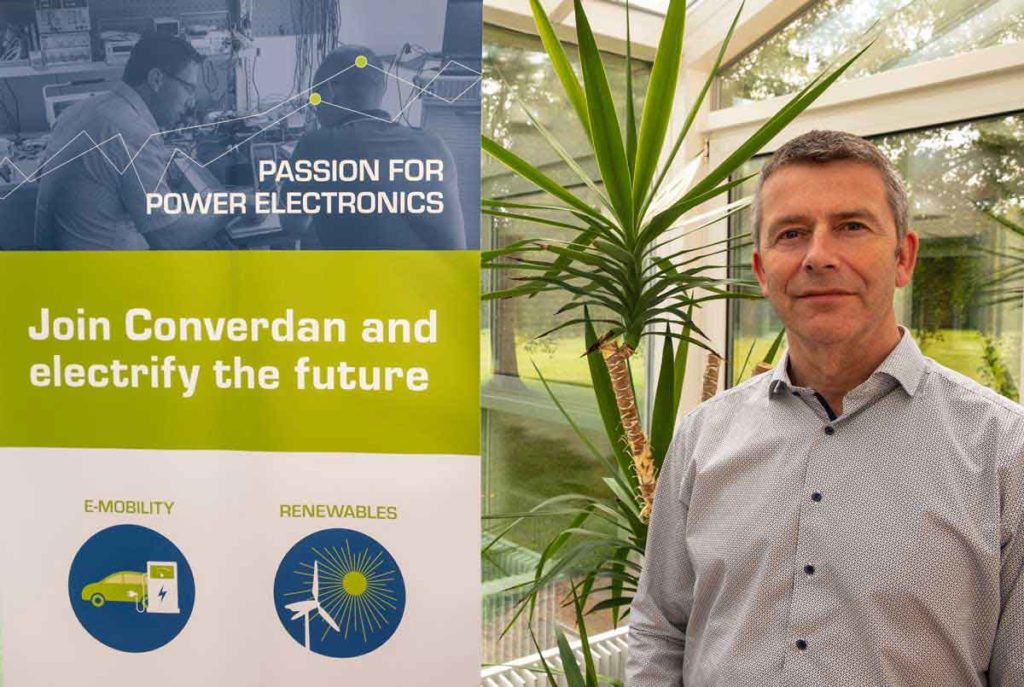 Jens Kiib has just joined Converdan as Chief Technology Officer and co-owner. 
Jens Kiib comes with a broad background from Danish and international companies, including Development Director at Schneider Electric in Kolding and most recently as CTO at TRIAX A/S in Hornsyld. In his new job at Converdan, Jens will help develop the gazelle company to the next strategic level.
Jens started at Converdan on May 1st. A bit of a upheaval from working in a much larger Danish company with subsidiaries in 9 countries to now doing his daily work at Converdan with just 18 employees.
When asked why Jens chose to move to Converdan, he says:
"Converdan is a strong company on a super exciting journey. Our goal is to be among the leaders in the development and production of customer-specific power electronic products and complete solutions, worldwide. I can very much identify with the plans that lie ahead, and I look forward to being part of the journey and helping to develop Converdan further. As a CTO, I look forward to working closely with our clients around the world. We have a very well-qualified team of software and hardware engineers, as well as mechanics, and I expect the team to grow further over the coming years."
Thomas Slivsgaard, CEO and Founder of Converdan has no doubt that Jens will have plenty of opportunity to put his imprint on Converdan.
"Converdan has always had great ambitions. We have a strategic approach to development and our mission is to support the global green transition by creating products that convert electrical energy with the lowest possible loss. We are therefore really pleased that we found such a good human and competency match in Jens, and warmly welcome him in the circle of ownership, where his vast experience will benefit everyone in the future, " says Thomas Slivsgaard, CEO and founder of Converdan, and continues:
"The position as CTO is newly created, but the need to have someone who can focus on leading and developing the development department is not new. Jens will, with his experience and knowledge, help to take Converdan to the next level in product development, and will give me more time to bring Converdan even closer to our customers".
About Converdan
For almost a decade, Converdan A/S has been developing and producing customized power electronics solutions for customers worldwide in strategically selected focus areas within green conversion, renewable energy, electrification in the transport sector and industry.
Converdan uses platform-based product development and, based on many years of experience, has developed its own optimized technologies and products that can easily be tailored to the customer. This reduces project costs by up to 75% and at the same time guarantees the customer a significantly shorter delivery time.
Converdan is Danish-owned, and was named a gazelle company by "Børsen" in 2018 and 2019. See more about The gazelle award here.