Auxiliary Power Supply 500W
The CDC150HV is a high-performance DC/DC converter featuring a single galvanic isolated low-voltage output derived from a high-voltage input of up to 1000 Vdc.
The CDC150HV converter is suitable for use in applications that require a low-voltage supply to be generated from a high-voltage DC-bus rail, that is typically found in renewable energy, battery chargers, energy storage and industrial power systems.
The CDC150HV has a very high efficiency that allows for a compact and fan-less design, capable of operating at elevated ambient temperatures while still maintaining very high reliability and long-life expectancy.
Up to 10 units can be paralleled via a simple 1-wire load share bus for a maximum system power level of 5 kW. The load is shared equally among all active units connected to the load sharing bus.
The master unit controlling the load sharing is automatically selected among the active units feeding the load and the master role is automatically passed on to a different unit, should the master encounter a fault. This feature is advantageous over other load sharing methods, especially in high availability applications. 
The CDC150HV offers a high-power density with an output power level of 500 W in a compact enclosure size of just 258x124x61 mm.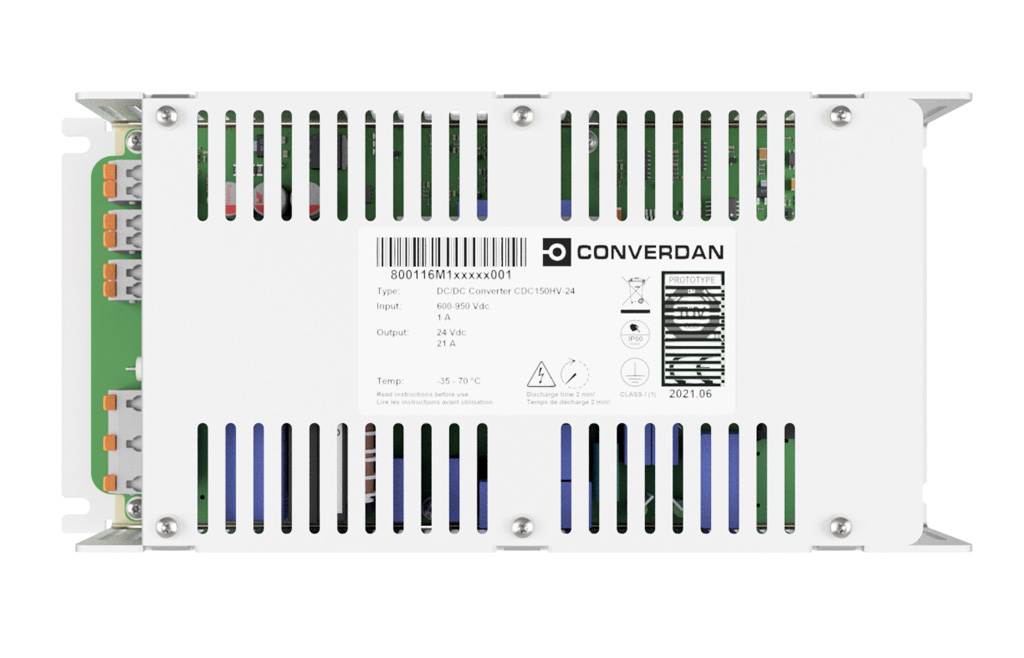 Typical/Recommended Operating Conditions
Output DC Voltage (incl. tolerances)
Output Load Current Range
Isolation Category (Input/Output)
Impulse Withstand Voltage (Input-PE)
Impulse Withstand Voltage (Input-Output)
Full Load Operation Temperature (Ambient)*1
Derated Load Operating Temperature (Ambient)*1
Note 1: Minimum of 1 m/s air flow across unit is required.
Approvals
CE Approval Directives:
For complete set of specifications, please request the datasheet below. No strings attached.