3-Phase Active Front End Power Module
AFE 33kW – Scalable to 1MW total system power
The AFE333KAC is a non-isolated fully integrated 3-phase active front end power module that is suitable for use as a bidirectional grid connected rectifier in systems for renewable energy, battery chargers, energy storage and general-purpose converters.
The AFE333KAC takes a 3-phase AC input voltage and converts it into a high voltage DC output. It will control the input power factor to a specified level and allows independent control of both active and reactive current or power.
In addition, it supports bidirectional power flow with a seamless transition between delivery of power to and from the AC grid. Furthermore, it offers a choice of different control modes including direct active/reactive power control, direct active/reactive current control and DC output voltage control.
The AFE333KAC offers a large power density with a DC power level of 33kW in a 19" module with a height of only 4RU. Up to 32 units can be paralleled in a master-slave system for a maximum system power level of more than 1MW.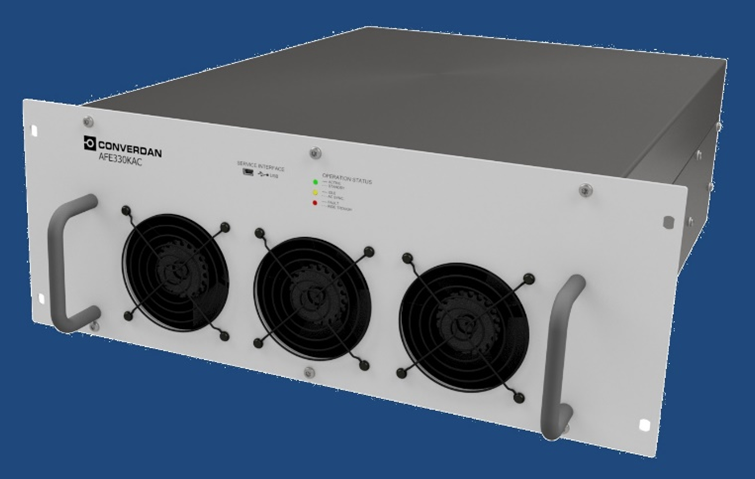 Typical/Recommended Operating Conditions
Grid Voltage (L-L), nominal
Grid Voltage (L-L), Operating range
Grid Voltage Phase Imbalance (Note 1)
Operating Temperature Range Ambient Full Power (Note 1)
AUX & CAN Power Supply Input Voltage
AUX & CAN Power Supply Input Current
Grid Power Factor (controllable via comm. interface)
Grid Current THD (at full power)
DC Voltage Accuracy (from setpoint)
Idle Apparent Power (not connected to Grid)
Standby Active Power (connected to grid, power factor set to unity)
Standby Reactive Power (connected to grid, power factor set to unity)
Note 1: Derate output power above maximum level. Unit will shut down when exceeding absolute maximum rating(s).